Over the past few weeks two more businesses have asked to carry AS&R's "Check for Bikes" clings, designed to remind drivers to look twice and look again for cyclists on the road before opening their door or making any turns.
Jason Alabanza at Mechanics Bank and Charlie Prins at Prins Chiropractic each bought 100 of Albany Strollers & Rollers' "Check for Bikes" clings to distribute to their customers and patients. Thanks to Jason, Charlie and to the other local businesses who show a clear connection to their communities and care about the safety of cyclists: Dana Meyer Auto Care,  Blue Heron Bikes, Wheels of Justice Albany,  Marie Bowser Acupuncture, Whole Health Apothecary, Ivy Room, T324, Albany YMCA, St. Alban's Episcopal Church and Church by the Side of the Road.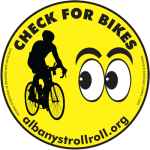 Be sure to stop in, thank them and pick up some clings when you walk or ride by!
We truly appreciate those local businesses and organizations who support cyclist safety and awareness!
Go to
www.CheckForBikes.org
 or contact
Amy Smolens
 with any questions or ideas.
Thanks!