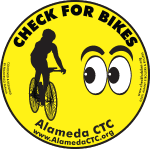 We're excited to report that we have two new partners in our "Check for Bikes" safety initiative!
Alameda County Transportation Commission wanted custom clings bearing the image of a woman on a bike. It's wonderful to see this transportation agency helping spread the word to keep an eye out for bicyclists when you're driving!
And one of our most supportive businesses, Bua Luang Thai Cuisine, bought 100 of our original AS&R clings to distribute to customers. Thanks to Bua Luang's owner, Pat, for caring about the people in your local community!
Francesco Papalia had this idea more than 3 years ago when he saw a colleague on crutches after having been doored. He brought it to AS&R member Tod Abbott of "Almost Everything Communications" to design and to AS&R to help distribute. Since then we have distributed a few thousand of ours and designed 7 different custom clings for 6 businesses and organizations!
Want some clings of your own to pass on to friends, neighbors or colleagues in order to help keep us all safer on the roads? We also have 16 local businesses distributing them (go here for the list.) Go to any of those locations to get some clings or contact Amy Smolens.