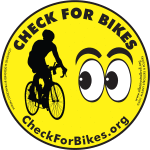 The "Check for Bikes" window cling designed by AS&R members Francesco Papalia & Tod Abbott is now available at checkforbikes.org.
It's a reminder to drivers to look out before opening their car door into bicycle traffic and as a general awareness tool to look for bicyclists while they are driving. The clear vinyl cling is installed inside the car, such as in the upper left  portion of the windshield near or below where oil change reminders are typically placed.
Please help us spread the word and make the roads safer to ride for you, your family and all cyclists by getting some of these clings for yourself and sharing with other drivers – thanks!
We also have new bumper stickers, to spread the word even further! They're small, 4″ x 4″, so fit anywhere (unlike in some of these photos, they are all DIE CUT.)
To get yours (clings 4 for $1, bumper stickers 3 for $2) or to find out more, visit checkforbikes.org or email contact@checkforbikes.org or Amy Smolens.
We can customize them for any organization or website – just ask us how. We have designed customized clings for the Albany YMCA, 511ContraCosta, the Albany Rotary Club, local businesses T324 & Missing Link and more, and we can do them for you, too!