When:
March 24, 2019 @ 10:00 am – 12:30 pm
2019-03-24T10:00:00-07:00
2019-03-24T12:30:00-07:00
Where:
Cornell Elementary School
920 Talbot Ave
Albany, CA 94706
USA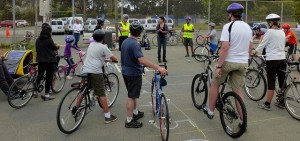 Join Bike East Bay's certified instructors and AS&R friends & neighbors for a day of fun games, safety drills, skills building, and a neighborhood ride. This workshop is for kids who are able to ride a bike and ready to take to the paths and roadways with their parents (suggested grade range 2nd-6th).


The event includes instruction on fitting a helmet, performing a bike safety check, communicating with other road users, riding in a straight line and avoiding obstacles,  as well as navigating safely through intersections, all while playing fun games!
We will also bring our bike teeter-totters, make bike-powered fruit smoothies, and end the class with a group ride around the neighborhood together!  All minors must be accompanied by an adult to participate, both with their own working bikes and helmets. Each child will receive a free reflective vest.
The event is FREE but you must pre-register so for more information and to register please go here.
Hope to see you there!!
WE NEED SOME VOLUNTEERS TO MAKE THIS A SUCCESS!
We're seeking 2-3 people to help out at the family cycling workshop.
9:30-10:15 to help with set up and checking in of participants, while instructors get a feel for the participants and check bikes out mechanically.
9:30-12:30 to speak to kids and parents about bike stuff.
Noon-12:45 for cleaning up, helping to make smoothies and helping to break down our gear.
Contact Britt at bthesen@gmail.com if you can help out!