The new "check for bikes" window cling designed by AS&R member Francesco Papalia is now available at checkforbikes.org.
It's meant to be a reminder to drivers to look out before opening their car door into bicycle traffic and as a general awareness tool to look for bicyclists while they are driving. The clear vinyl cling is installed inside the car, such as in the upper left  portion of the windshield near or below where oil change reminders are typically placed.
Please help us spread the word and make the roads safer to ride for you, your family and all cyclists by getting some of these clings for yourself and sharing with other drivers – thanks!
To get yours or to find out more, visit checkforbikes.org or email contact@checkforbikes.org!!
We can customize them for any organization or website – just ask us how. We have designed customized clings and bumper stickers for the Albany YMCA, 511ContraCosta, local businesses T324 & Al Caruso Insurance & more and we can do them for you, too!
Got SECURE Bike Parking? We Do, Right Here!
Ever want to ride somewhere but are wary of leaving your bicycle locked up outside? Want to take BART without your bike and have your bike, lights, panniers and everything else still be there when you get back? Heading to downtown Oakland or SF on the train but afraid it may rain and don't want to sit on a soggy saddle? Well, worry no more – AS&R has a  simple and inexpensive solution!
FOR BETWEEN 3¢ to 5¢ AN HOUR (seriously!!) you can park your bicycle and your belongings inside SECURE lockers throughout the Bay Area. BikeLink, a company based in Berkeley, has secure lockers throughout the Bay Area and beyond – including most BART stations – 96 at El Cerrito Plaza, 80 at North Berkeley- as well as at Berkeley Amtrak, the Alameda Ferry Terminal and hundreds of other locations!
Albany Strollers & Rollers is now a vendor of these great cards – preloaded with $20, which will can get you at least 400 HOURS of secure bike parking!
Want a card and thousands of new parking spaces for your bike?  Come to one of our events, meetings or Happy Hours or email Amy Smolens or contactus@albanystrollroll.org .
For more details, go to www.bikelink.org
Thanks to Rendez-Vous Cafe Bistro, who helped with funding, we were able to produce these 12″ long, reflective leg bands, to "keep your pant legs tight and you & your family bright" and allow us to ride and walk more safely as the days get shorter.
They are lightweight, and just "snap" in place quickly.  Easy and convenient to leave around the seat-post of your bike as an additional reflector (and so where you know where to find them!).
A suggested donation of $2-$3 per band will help you be more visible to drivers when you're riding and walking!
Contact Amy Smolens to pick some up for you and your family now! They make great gifts, too!
Donate to AS&R, Help Albany and Get a Tax Deduction!
Do you have any old bicycles or bicycle parts you don't need anymore? Any mobility assistance equipment?? Would you like to offer it up to other members or for public use?  Give it to anyone who makes a tax-deductible donation to AS&R? Or maybe swap with another Albany Stroller or Roller who may need it either temporarily or permanently??  Sell to another AS&R member for a modest price?
If so, please contact us here and we'll post your equipment online.
Remember, it takes a village! Share your toys…. If you think you might use something "someday" someone else might be able to use it "today".
Thanks!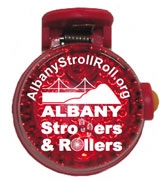 AS&R has partnered with  Fun Source LLC to make these versatile rear bike lights available to school kids and to you! For each Safety Light that you buy, an Albany student gets one free! For just $8 each, or $15 for two (that's 50% off MSRP,) you get a bright red rear light with three blinking modes, a clip and a quick-off bike mount. Over the past three years we have installed more than 500 of these lights on kids' bikes – help us keep this important program going!
Great Stocking Stuffers!

Our AS&R version  supports a good, grass-roots advocacy cause promoting bike-ped safety for children in our local community.  We appreciate your support of this great SR2S program by purchasing our lights through AS&R. To purchase or for more information, come to any of our events or contact Amy Smolens at calamari@alumni.duke.edu.
On  2009, 2010 and 2011 International Bike & Walk to School Days. AS&R members and school parents installed 150 free lights (each year, that is!) on the bikes of kids who rode to school – a huge success!