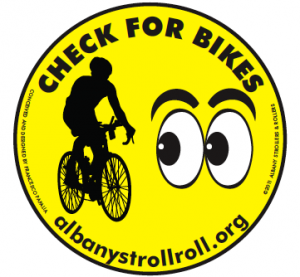 Justice Baxter of Wheels of Justice Cyclery  (yes, he took over Albany fixture Solano Avenue Cyclery) recently bought some of our "Check for Bikes" clings to pass on to his customers! It's really important to get the clings into everyone's vehicles, not just those of cyclists – so when you go there, please pick them up to pass on to friends, family members and other motorists.
This makes five local establishments distributing our clings: WOJ,  St. Alban's Episcopal Church, Dana Meyer Auto Care, Whole Health Apothecary and Marie Bowser Acupuncture. We appreciate the support from those who care about bicycle safety!
If any of you have ideas of other ways to distribute these simple, friendly and inexpensive items that help make the roads safer, contact me through www.checkforbikes.org or here. Thanks!