AS&R has expressed disappointment in the Solano Complete Streets Draft Plan that was released in February 2019. The plan offered no improvements for people riding bikes on Solano Ave. We heard from many people that bikes don't really belong on Solano Ave., there are good alternative east-west bike routes nearby, and if we want to shop on Solano by bike we should just arrive from a side street and park at the corner. This is antithetical to the concept of Complete Streets.
The Traffic & Safety Commission took a big step to improve the plan at its meeting on February 28th. The Commission viewed a new alternative design that would welcome bike riding on Solano, offer more sidewalk space for people walking, and maintain roughly the car parking capacity that the street has today.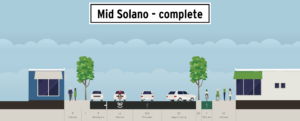 The new design provides a safe, protected bike lane for people riding uphill, avoiding conflicts with drivers using the diagonal parking. In the downhill direction, bike riders would share the lane with car traffic, alongside a parallel parking strip.
The Traffic & Safety Commission unanimously asked for the new alternative to be included in the plan.
The final plan, coming soon, may offer a range of alternative designs to consider. AS&R will support alternatives that encourage more people to shop on Solano using active transportation, and will oppose alternatives that invite more car use:
The primary design in February's draft plan devotes more public space to car parking and does not recommend any tools to manage parking demand. It makes no improvements for people biking. It widens sidewalks a little, but not enough for a main street. Some features meant to help people walk across the wide street would create new hazards for those biking. AS&R opposes this design.
February's draft plan recommends studying back-in angled parking as an alternative to today's parking configuration. This would improve safety for people biking, but would not encourage a wide range of people to try biking.
AS&R enthusiastically supports the new design with the protected bike lane. It provides safe spaces for people to ride bikes from ages 8 to 80, devotes more space for walking, and does not encourage additional driving. This is a true Complete Street.