May
30
Wed
Solano Avenue Complete Streets Walk & Workshop

@ Flowerland & Community Center
May 30 @ 5:00 pm – 8:30 pm
Do you want Solano Avenue to be more walkable, bikeable and safe for all?
The City of Albany is developing a Complete Streets and Corridor Revitalization Plan for Solano Avenue from Masonic Avenue to Tulare Avenue to create an active main street environment. An extensive community engagement process will be deployed to identify ideas and strategies to:
Improve safety for pedestrians and bicyclists
Enhance access to transit
Promote a cohesive streetscape
Support local economic activity
The outcome will be a plan with Complete Streets designs for roadway, sidewalk and intersection changes that support all modes and users of all ages and abilities, builds foot traffic for local businesses, encourages interaction in public spaces, and adds vibrancy to the community.
The first public input event includes a walk along a few blocks of Solano to observe what is in place, and then a workshop at the Albany Community Center to generate ideas and collect concerns for the project. Refreshments will be provided at the Workshop.
Participate in this site walk and/or workshop to share your ideas of how this avenue could be safer and more comfortable for you and your family.
5:00pm – 6:00pm – Walking Assessment of Solano Avenue – Meet in front of Flowerland (1330 Solano Avenue)
6:00pm – 8:30pm – Community Design Workshop – Albany Community Center (1247 Marin Ave.)
Jun
7
Thu
Central Ave I-80 Underpass Improvement Community Workshop

@ El Cerrito Council Chambers
Jun 7 @ 6:00 pm – 8:00 pm
Do you bike or walk on Central Avenue under I-80 to reach the places you enjoy?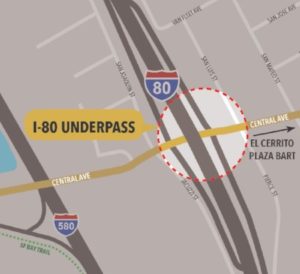 Would you like to help make it easier and safer to do so?
The Central Avenue / Interstate 80 (I-80) underpass in Richmond leads to a lot of great places—the San Francisco Bay Trail, Point Isabel Dog Park, Costco and the Richmond Marina, to name a few.
CalTrans District 4 wants your ideas on how to transform the underpass into a high-quality pedestrian and bicycle connection!

Help improve your biking and walking experience in the East Bay!
Join us at the Community Workshop to share ideas on the project design. We will discuss safety features, lighting, wayfinding and other design elements.

WHO:
You! Residents, cyclists and walkers in Richmond, El Cerrito, Albany (Pierce Street and West Albany residents, that means you!!) and beyond.
For more information, go to http://www.dot.ca.gov/d4/transplanning/i-80central.html
May
25
Sat
"Pints With Purpose" – $1 from every pint or flight ALL DAY goes to AS&R "Bike Bike Rack" at Wildcard Brewing!

@ Wildcard Brewing
May 25 @ 12:00 pm – 10:00 pm
We're excited to have brand new local business Wildcard Brewing partner with Albany Strollers & Rollers on "Pints With Purpose," their community fundraiser in which they help out local non-profits.
In this Bike Month activity, $1 FROM EVERY PINT OR FLIGHT THAT YOU BUY ALL DAY WILL HELP AS&R FUND A BRAND NEW "BIKE BIKE RACK" FOR WILDCARD CUSTOMERS!
Since we're anticipating lots of you riding over, we'll have our Bicycle Valet Parking racks set up right out front for you and your families.  Racks will be unattended (we'll be inside) so please bring your bike locks.
Yes, Wildcard is family friendly (they have non-alcoholic beverages including craft root beer, New York seltzer and lemon flavored sparkling water, plus plenty of games) and you can bring or order food in to go with your beer!
They even welcome leashed dogs!
Feel free to bring lunch, dinner or snacks from your favorite restaurants on Solano or San Pablo Avenues, too!
Support those who support us – hope to see you there as Bike Month winds down!!