May
23
Wed
Community Meeting re. Safe Travel on Ohlone Greenway

@ Albany Senior Center
May 23 @ 7:00 pm – 8:00 pm
Albany Community Action member Céline Wallace set up a meeting with 2 police departments hosted by Albany's Mayor and Vice Mayor about safety on the Greenway. Céline organized this after her husband was held up at gunpoint on the greenway a few weeks ago, but before a Greenway shooting/murder took place in late April.
Representatives from the Albany and El Cerrito Police Departments will be on hand to provide information on crime trends and strategies affecting safe travel on the Ohlone Greenway.
Jun
7
Thu
Central Ave I-80 Underpass Improvement Community Workshop

@ El Cerrito Council Chambers
Jun 7 @ 6:00 pm – 8:00 pm
Do you bike or walk on Central Avenue under I-80 to reach the places you enjoy?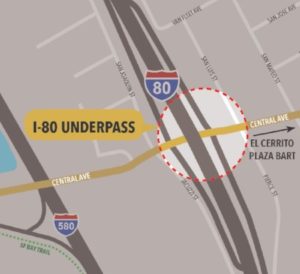 Would you like to help make it easier and safer to do so?
The Central Avenue / Interstate 80 (I-80) underpass in Richmond leads to a lot of great places—the San Francisco Bay Trail, Point Isabel Dog Park, Costco and the Richmond Marina, to name a few.
CalTrans District 4 wants your ideas on how to transform the underpass into a high-quality pedestrian and bicycle connection!

Help improve your biking and walking experience in the East Bay!
Join us at the Community Workshop to share ideas on the project design. We will discuss safety features, lighting, wayfinding and other design elements.

WHO:
You! Residents, cyclists and walkers in Richmond, El Cerrito, Albany (Pierce Street and West Albany residents, that means you!!) and beyond.
For more information, go to http://www.dot.ca.gov/d4/transplanning/i-80central.html
Jul
28
Sun
Urban Cycling 101 Day 2: On the Road

@ University Village
Jul 28 @ 10:00 am – 3:00 pm
Do you or anyone you know want to ride more but don't feel confident enough?
Here's a FREE bicycle skills class, courtesy of Bike East Bay, and it's right here in Albany!
Join Bike East Bay for a half day of bike riding! This is the second part of Urban Cycling 101 (these are the two first day events.) We'll cover on-road, on-your-bike practice sessions, working in small groups with our certified instructors to improve your handling skills, learn crash-avoidance maneuvers, and ability to bike confidently on any street. Laws and best practices particular to Albany and nearby neighborhoods will be covered.
Every attendee will receive a free set of bike lights!!!
A functional bike and helmet are required, drinks and snacks provided. (The idea is to have attended an Urban Cycling 101 Day 1:One of these two Classroom courses first. If you were not able but still want to attend this class, please email Robert Prinz and he can make other arrangements.)
The class is FREE but please register on the Bike East Bay Website.