Jun
3
Sun
Berkeley Sunday Streets

@ Shattuck from Rose to Channing, and continues on Durant to Telegraph.
Jun 3 @ 11:00 am – 4:00 pm
Get out and connect with your community and urban environment in a transformative way!
Sunday Streets (also called "Open Streets")  closes streets to automobile traffic for a day so that people may use the space for other physical and social activities. The streets become parks as people replace car traffic. People walk, bike, skate and dance and play. Everyone from businesses and community organizations to musicians and artists use the space creatively, engaging the public and providing spontaneity and discovery. This temporary public space inspires creativity and change for the better, on that day – and beyond.
The first Sunday Streets Berkeley was on October 14, 2012. More than 42,000 people came to Shattuck Ave to stroll, skate, cycle, dance, play in the street. People came from all over the Bay Area to experience Berkeley anew. Local Berkeley businesses reported a 30-50% increase in sales on the day of the event. The first-ever Sunday Streets Berkeley was by all measures a great success.
Previous routes have been expanded – Sunday Streets now runs the length of Shattuck from Rose to Channing, and continues on Durant to Telegraph.
Here's an interactive map of Sunday Streets activities.
Jun
7
Thu
Central Ave I-80 Underpass Improvement Community Workshop

@ El Cerrito Council Chambers
Jun 7 @ 6:00 pm – 8:00 pm
Do you bike or walk on Central Avenue under I-80 to reach the places you enjoy?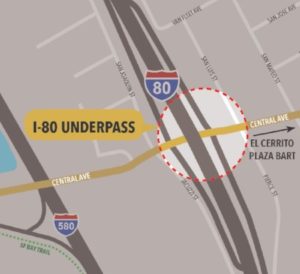 Would you like to help make it easier and safer to do so?
The Central Avenue / Interstate 80 (I-80) underpass in Richmond leads to a lot of great places—the San Francisco Bay Trail, Point Isabel Dog Park, Costco and the Richmond Marina, to name a few.
CalTrans District 4 wants your ideas on how to transform the underpass into a high-quality pedestrian and bicycle connection!

Help improve your biking and walking experience in the East Bay!
Join us at the Community Workshop to share ideas on the project design. We will discuss safety features, lighting, wayfinding and other design elements.

WHO:
You! Residents, cyclists and walkers in Richmond, El Cerrito, Albany (Pierce Street and West Albany residents, that means you!!) and beyond.
For more information, go to http://www.dot.ca.gov/d4/transplanning/i-80central.html