May
10
Thu
Bike to Work Day – Volunteers Needed!

@ Albany Strollers & Rollers Energizer Station - Ohlone Greenway & Marin Avenue
May 10 @ 6:30 am – 9:30 am
Join us for the 25th Annual Bike to Work Day in the Bay Area, a party on wheels!!
As usual, there will be coffee, food, swag, bike goodies in the famous Bike to Work Day musette bags, fun and lots of good conversation & information so come on down on your way to work!
Here's a short VIDEO that AS&R member Francesco Papalia took so you can see how fun the morning is!
The staff of Blue Heron Bikes and Berkeley Bikes & Skateboards will be volunteering their time, checking your bicycles for safety and road-worthiness as they have in previous years! Thanks to owners Rob Allen & Winston Jamison for spending time with us all!
Local business Kim's Cafe  (thanks, Cathy!!) and Royal Ground Coffee (thanks, Mike!) are again donating home made pastries & beverages for our Energizer Station. Trader Joe's El Cerrito, Barney Butter non-GMO almond butter from the Central Valley, Semifreddi's in Alameda and GU Energy in Berkeley are also giving us generous donations. Safeway on Solano and Sprouts at University Village are donating gift cards for groceries, too!
SO YES, WE NEED YOUR HELP IN DISTRIBUTING ALL THESE GOODIES TO 600+ CYCLISTS!
Local businesses BLUE HERON, BUA LUANG, TAY TAH CAFE AND FERN'S GARDEN ARE ALL  DONATING SPECIAL GIFT CARDS OR COUPONS FOR OUR BIKE MONTH VOLUNTEERS, IN APPRECIATION FOR YOUR TIME AND SERVICE TO THE COMMUNITY!!!
WE WILL NEED HELP AT OUR ENERGIZER STATION BEGINNING AT 6:30 a.m. through wrap-up at 9:30, as well as preparing for a big celebration.
We will need help stuffing the musette bags with goodies beforehand, picking up food & coffee early morning on the 10th, and handing out swag, food and counting cyclists all morning at the Energizer Station.
Want to help get donations of food, beverages or $ for food & bevs?  If so, please contact Ken McCroskey at kenmccroskey@gmail.com or Amy Smolens at calamari@alumni.duke.edu or leave a comment on this post.
Thanks!!
Jun
7
Thu
Central Ave I-80 Underpass Improvement Community Workshop

@ El Cerrito Council Chambers
Jun 7 @ 6:00 pm – 8:00 pm
Do you bike or walk on Central Avenue under I-80 to reach the places you enjoy?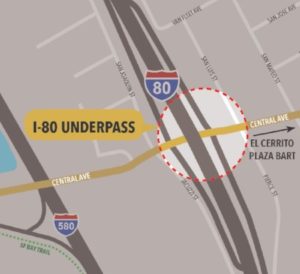 Would you like to help make it easier and safer to do so?
The Central Avenue / Interstate 80 (I-80) underpass in Richmond leads to a lot of great places—the San Francisco Bay Trail, Point Isabel Dog Park, Costco and the Richmond Marina, to name a few.
CalTrans District 4 wants your ideas on how to transform the underpass into a high-quality pedestrian and bicycle connection!

Help improve your biking and walking experience in the East Bay!
Join us at the Community Workshop to share ideas on the project design. We will discuss safety features, lighting, wayfinding and other design elements.

WHO:
You! Residents, cyclists and walkers in Richmond, El Cerrito, Albany (Pierce Street and West Albany residents, that means you!!) and beyond.
For more information, go to http://www.dot.ca.gov/d4/transplanning/i-80central.html
May
25
Sat
"Pints With Purpose" – $1 from every pint or flight ALL DAY goes to AS&R "Bike Bike Rack" at Wildcard Brewing!

@ Wildcard Brewing
May 25 @ 12:00 pm – 10:00 pm
We're excited to have brand new local business Wildcard Brewing partner with Albany Strollers & Rollers on "Pints With Purpose," their community fundraiser in which they help out local non-profits.
In this Bike Month activity, $1 FROM EVERY PINT OR FLIGHT THAT YOU BUY ALL DAY WILL HELP AS&R FUND A BRAND NEW "BIKE BIKE RACK" FOR WILDCARD CUSTOMERS!
Since we're anticipating lots of you riding over, we'll have our Bicycle Valet Parking racks set up right out front for you and your families.  Racks will be unattended (we'll be inside) so please bring your bike locks.
Yes, Wildcard is family friendly (they have non-alcoholic beverages including craft root beer, New York seltzer and lemon flavored sparkling water, plus plenty of games) and you can bring or order food in to go with your beer!
They even welcome leashed dogs!
Feel free to bring lunch, dinner or snacks from your favorite restaurants on Solano or San Pablo Avenues, too!
Support those who support us – hope to see you there as Bike Month winds down!!