Jan
15
Tue
Public Forum for I-80/Gilman Interchange Project

@ James Kennedy Recreation Center Community Room
Jan 15 @ 6:00 pm – 9:00 pm
The planned I-80 Gilman Interchange Project will improve travel for all users of that area, including people who bike to the Bates Fields, Berkeley Marina and south on the Bay Trail.
CalTrans has adopted a Negative Declaration for the project, which is excellent news.
This page has additional information on the entire project and plan.
This Open Open Forum Hearing will give you an opportunity to show your support for this project, or discuss improvements that might help Active Transportation access and safety.
If you can't attend but would like to voice support, please send an email to Zachary.Gifford@dot.ca.gov 
Nov
5
Tue
Berkeley San Pablo Ave Traffic Safety Walk
Nov 5 @ 5:00 pm – 6:00 pm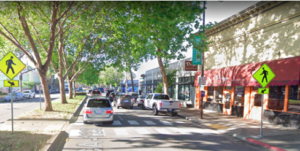 Join Walk Bike Berkeley members, District 2 Berkeley City Council Candidate Terry Taplin, Transportation Commissioners, and others to discuss road safety challenges and opportunities on San Pablo Avenue.
Remember, what is done in Berkeley will have an impact on Albany's stretch of San Pablo!
Meet at Dwight & San Pablo, walk to University Ave (7 blocks)
RSVP: info@walkbikeberkeley.org
WHY SAN PABLO?
San Pablo from Dwight to University is the highest priority street segment to fix in Berkeley's draft Pedestrian Plan, based on safety and equity needs

Just 14% of Berkeley's street miles account for 93% of pedestrian fatalities & severe injuries

Berkeley's busy, arterial streets are the most dangerous for people walking and biking

Alameda County, including Albany, is planning the future of the San Pablo Avenue Corridor

IF YOU WANT TO WALK OR BIKE TO THE START FROM ALBANY, PLEASE LEAVE A COMMENT AND PROPOSED STARTING TIME & PLACE IN "COMMENTS"