May
24
Fri
Bike-In Movie – "Pee-wee's Big Adventure"

@ Albany Community Center
May 24 @ 6:30 pm – 8:30 pm
The City of Albany's Recreation Department is getting into the spirit of Bike Month with a Bike in Movie!
They will be showing "Pee-wee's Big Adventure"  (PG), a family-friendly comedy about one man-child's cross-country adventure in search of his beloved stolen bike. It's a bizarre story of perseverance and hope in times of adversity, and is chock-full of zany characters.
Ride your bike on down to the Albany Community Center and join us for this fabulous Bike Month event! There will have plenty of space to park your bike in a protected area, complete with a massive bike rack.
The popcorn is free and will be flowing freely!
Nov
5
Tue
Berkeley San Pablo Ave Traffic Safety Walk
Nov 5 @ 5:00 pm – 6:00 pm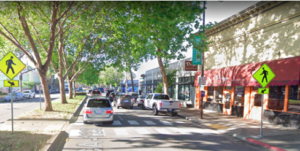 Join Walk Bike Berkeley members, District 2 Berkeley City Council Candidate Terry Taplin, Transportation Commissioners, and others to discuss road safety challenges and opportunities on San Pablo Avenue.
Remember, what is done in Berkeley will have an impact on Albany's stretch of San Pablo!
Meet at Dwight & San Pablo, walk to University Ave (7 blocks)
RSVP: info@walkbikeberkeley.org
WHY SAN PABLO?
San Pablo from Dwight to University is the highest priority street segment to fix in Berkeley's draft Pedestrian Plan, based on safety and equity needs

Just 14% of Berkeley's street miles account for 93% of pedestrian fatalities & severe injuries

Berkeley's busy, arterial streets are the most dangerous for people walking and biking

Alameda County, including Albany, is planning the future of the San Pablo Avenue Corridor

IF YOU WANT TO WALK OR BIKE TO THE START FROM ALBANY, PLEASE LEAVE A COMMENT AND PROPOSED STARTING TIME & PLACE IN "COMMENTS"