Jun
7
Thu
Central Ave I-80 Underpass Improvement Community Workshop

@ El Cerrito Council Chambers
Jun 7 @ 6:00 pm – 8:00 pm
Do you bike or walk on Central Avenue under I-80 to reach the places you enjoy?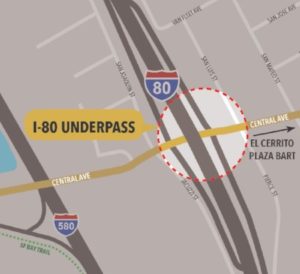 Would you like to help make it easier and safer to do so?
The Central Avenue / Interstate 80 (I-80) underpass in Richmond leads to a lot of great places—the San Francisco Bay Trail, Point Isabel Dog Park, Costco and the Richmond Marina, to name a few.
CalTrans District 4 wants your ideas on how to transform the underpass into a high-quality pedestrian and bicycle connection!

Help improve your biking and walking experience in the East Bay!
Join us at the Community Workshop to share ideas on the project design. We will discuss safety features, lighting, wayfinding and other design elements.

WHO:
You! Residents, cyclists and walkers in Richmond, El Cerrito, Albany (Pierce Street and West Albany residents, that means you!!) and beyond.
For more information, go to http://www.dot.ca.gov/d4/transplanning/i-80central.html
Sep
13
Thu
BMX/MTB Park and Albany Hill trails on Parks & Rec Meeting Agenda

@ Albany City Hall
Sep 13 @ 7:00 pm – 9:00 pm
This item was written by Parks & Rec Commissioner
Bryan Marten
:
On September 13th, a course/park designer will pitch several plans for a proposed mountain bike/BMX bike park in Albany. Commissioners will benefit from input and feedback from the public, especially supporters like you, to help decide which plan, if any, to advance to the City Council. Proposed location is adjacent to Pierce St Park – just below it, to the west on Cleveland St. Early discussions described a MTB component around the perimeter space and a BMX component at the interior. The designer said he likes to design with different riding abilities in mind on the same course (very easy, medium, challenging) and to provide different price points for features, their materials, etc. He has designed and built Richmond's new Dirt World and many other bike parks.
Here is the Design and Estimate Proposal.
Any input – in person or even in writing – you can provide (even just "looks great!" or "our family would use this!" will be helpful).
Separately, input is sought for what may be the final design review for the new and improved trails at Albany Hill Park. Here are the 90% Plans.
*New ADA trail at the top parallel to the ridge line
*Improvements to existing trails at the north
*Improved, re-landscaped access points to the park where Jackson and Madison dead-end
*Stairs plus a bulbout in the SE corner where Taft hits Hillside
The city has received the monarch roosting report it commissioned and is taking its results and recent community input to limit impacts to trees near monarch habitat. Some commissioners including myself (Bryan Marten) want to also use that information to move forward with choosing a select few trees to remove to improve views of the bay, bird habitat at the mud flats, etc. This involves the city approaching the large land owner at the SW corner of the hill which the city has said it will do.
This is the full agenda for the meeting.
Editor's note: AS&R member and P&R Commissioner Bryan Marten will not be able to attend this meeting so if any of you can attend or at least write a letter about either of these projects, that will be extremely helpful.
PLEASE WRITE LETTERS OF SUPPORT to Albany Staff Liaison Chelle Putzer at cputzer@albanyca.org and request that she send your letter to all members of Albany's Parks & Rec Commission. Thanks!
Oct
5
Sat
Bay Day Ride at the Albany Bulb

@ North Berkeley BART
Oct 5 @ 1:00 pm – 3:00 pm
Celebrate Bay Day with Albany Strollers & Rollers, Bike East Bay and Love the Bulb! Join a relaxed Bay Trail bike ride and walking tour of the Albany Bulb. Ride starts at North Berkeley BART, goes up to Point Isabel and back, and finishes at the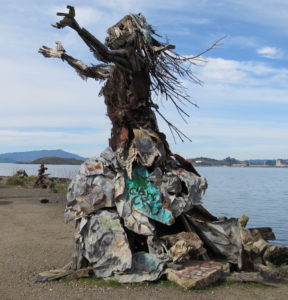 Albany Bulb. We will check out some recent and upcoming Bay Trail improvements and end the ride with the opportunity to take a walking tour of the unique art and nature of the Albany Bulb. If you'd like, grab a bite at FoodieLand Night Market near Albany Beach (plenty of bike parking- bring a lock!) before heading home.
This is the third of Bike East Bay's Fall Ride Series: a collection of family-friendly rides exploring excellent trails projects in the East Bay. You'll learn about the surrounding area, and explore favorite routes on these low-key rides. Check out the full schedule at BikeEastBay.org/FallRides.
To RSVP please go here. If anyone wants to ride from Albany to North Berkeley BART, leave a comment with meeting place and time.