Jul
16
Sat
Urban Cycling 101 Classroom Workshop – Albany Library/Community Center

@ Albany Library/Community Center
Jul 16 @ 1:00 pm – 3:00 pm
Do you, a friend or family member want to ride your bike more but don't feel confident enough?
Here's a FREE bicycle skills class RIGHT IN OUR BACKYARD, courtesy of Bike East Bay!
In addition to the regular first-Mondays classes at UC Berkeley, they have now set up a free Urban Cycling 101 Day 1 classroom workshop for adults and teens at the Albany Library/Community Center on Saturday, July 16th, from 1-3pm. Complete details and registrations are available here.
Every attendee at the July 22nd class in Albany will receive a free reflective vest. Anyone who participates in this or any of the other classroom workshops is also invited to Bike East Bay's free Day 2 road class to be scheduled soon (schedule will be 
here
.) Attendees at this road class will each receive a free set of bike lights.
Thanks, and please invite your friends and coworkers!
The class is FREE but it's mandatory to register 
here
.
Oct
23
Sun
NEW DATE – Sunday Streets Berkeley – Shattuck Avenue

@ Shattuck Avenue
Oct 23 @ 11:00 am – 4:00 pm
If you've read about Ciclovías and Open
Streets events all over the world, here's one right in your backyard!
On Sunday, October 23rd (NEW DATE due to 10/16 weather) from 11am-4pm, Shattuck Avenue between Rose and Haste will be closed to motor vehicles so you can bike, skate, wheelchair, scooter and walk to your heart's content!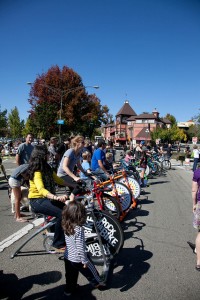 There will be plenty of activities for your and your family to enjoy, or just wander along the street with no worries about cars, grab a bite at an outdoor table and hang out!
For more information, go to www.sundaystreetsberkeley.org .
Hope to see you there!