Sep
30
Sun
FREE Family Cycling Workshop in Albany!

@ University Village Park
Sep 30 @ 9:00 pm – 11:30 pm
The family that rides together thrives together!
Safe road bicycling takes a lot more than balance, a helmet and a good attitude. Join the East Bay Bicycle Coalition's (AS&R's umbrella organization) League Certified safety instructors for a day of fun games, safety drills, skills building, and a neighborhood ride. This workshop is for kids able to ride a bike and who are ready to ride on the roadways with their parents. Parents and kids must attend together and should bring their own bikes. Each child receives a free red blinky light for participating!
Come on down and learn the rules of the road and how to ride more safely and confidently so your family can all enjoy riding around Albany!
Go here to register for this FREE fun workshop!
Oct
3
Wed
International Walk & Roll to School Day

@ Albany Elementary School and Middle School
Oct 3 @ 2:30 pm – 4:00 pm
All year AS&R members sell rear lights to the public, and for every one we sell, an Albany student gets one free! Over the past few years we've installed more than 800 lights on kids' bikes.
This event, International Walk & Roll to School Day is the payoff – AS&R volunteers and school parents install lights on kids bikes, helping them ride to and from school and activities more safely.
As you can imagine, this is a tough task so we could use your help that morning!!
Send an email to any of the AS&R Core Group to volunteer – thanks!
Mar
24
Sun
FREE Family Cycling Workshop – Bring your kids…Volunteers needed!

@ Cornell Elementary School
Mar 24 @ 10:00 am – 12:30 pm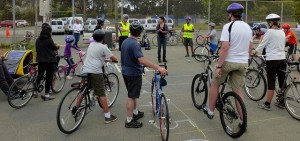 Join Bike East Bay's certified instructors and AS&R friends & neighbors for a day of fun games, safety drills, skills building, and a neighborhood ride. This workshop is for kids who are able to ride a bike and ready to take to the paths and roadways with their parents (suggested grade range 2nd-6th).


The event includes instruction on fitting a helmet, performing a bike safety check, communicating with other road users, riding in a straight line and avoiding obstacles,  as well as navigating safely through intersections, all while playing fun games!
We will also bring our bike teeter-totters and end the class with a group ride around the neighborhood together!  All minors must be accompanied by an adult to participate, both with their own working bikes and helmets. Each child will receive a free reflective vest.
AS&R will have an information table to talk to parents & kids about riding around the Albany area. You can pick up some great "Check for Bikes" clings and bumper stickers, as well as reflective leg & arm bands for safer biking.
The event is FREE but you must pre-register so for more information and to register please go here.
Hope to see you there!!
WE NEED SOME VOLUNTEERS TO MAKE THIS A SUCCESS!
We're seeking 2-3 people to help out at the family cycling workshop.
9:30-10:15 to help with set up and checking in of participants, while instructors get a feel for the participants and check bikes out mechanically.
9:30-12:45 to speak to kids & parents about bike stuff, and help with packing up.
Contact Britt at bthesen@gmail.com if you can help out!