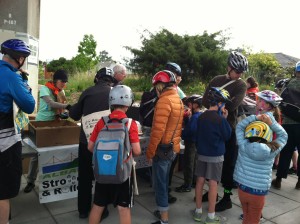 Another great Bike to Work Day has come and gone. At our Albany Energizer Station, we counted 580 cyclists going by while we were there. We are one of the busiest stations. Bike East Bay (formerly the East Bay Bicycle Coalition) reports a 24% increase in riders over last year: https://www.ebbc.org/node/11633. Thank
you to all who stopped by. If you didn't get a Bike to Work Day bag, a limited number will be available at the Bike Rodeo on Saturday (see above). We wish to thank Amy, Jay, Matt, Nathan, Pete, Brian, Flora, Jean, and Anni for staffing the station! Flora and Brian and Matt were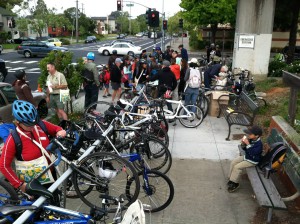 angels for arriving extra early to help with setup. Jay did an awesome job of counting – outstanding! Everyone was great. Amy and Megan and Jeanne, we thank you for the all the advance work in putting up the signs. And finally Marie Bowser and Judy for helping out with sponsors. And we wish to give a big shout out to our sponsors:
Fehr & Peers
La Farine
Andronico's
Safeway
Albany Fresh Produce
Kim's Cafe
Monterey Market
Missing Link
La Val's Pizza
Bua Luang Thai Cuisine
SpoonRocket
Marie Bowser Acupuncture

Nathan Hohmann, Pilates Instructor
Berkeley Bikes and Skateboards, Winston Jamison
Blue Heron Bikes, Rob Allen
Bike East Bay
Thanks for your support of bicycling!