You may have noticed that a lot of space previously reserved for car parking has been repurposed for customers of restaurants and cafés – that's Albany Inside Out! Many of the people volunteering on this program are your fellow AS&R members.
AIO not only helps businesses serve customers on site after months of Covid-induced restrictions, but encourages people to walk, bike and otherwise use active transportation when they go out for a meal, coffee or snack. Of course, many of the restaurants and cafés taking advantage of the outdoor space have bike racks so you have a safe place to lock up.

By helping Albany's small businesses repurpose outdoor space to welcome customers under Covid-19 limitations, we hope that this will help Albany's family owned businesses not only to survive, but to thrive!
ALBANY INSIDE OUT PARTICIPANTS WHICH ARE SERVING OUTDOORS INCLUDE:
Rendez-Vous Cafe Bistro, Souvenir Coffee Co, Mr. Dewie's Cashew Creamery, Royal Ground Coffee, Zaytoon Mediterranean Restaurant & Bar, Everest Kitchen, Bua Luang Thai Cuisine, Tay Tah Cafe, 5 Tacos and Beers, Little Star Solano, Boss, As You
Wish Frozen Yogurt, Hal's Office, Suzette Crêpe Café, iSlice, Lizzy's Cajun Café, Kim's Cafe and Sandwiches, Chez Mansour, Delhi Diner, Duo Grill House, Solano Junction, Fonda Solano, Rivoli, Talavera, Barney's Gourmet Hamburgers,  Ocean View Brew Works , Juanita & Maude, Barney's Gourmet Burgers,  Brazilian Breads, Sam's Log Cabin, Albany Taproom.
SUPPORTING BUSINESSES INCLUDE:
Albany Sauna & Hot Tubs, HEAL: Pilates, Raven & Rose, Copy Express, Umami Interiors, Feagley Realtors, Morningtide, Winkler Real Estate Group, Ember Acupuncture, Oaktown Spice Shop, Five Little Monkeys, Abrams Claghorn Gallery, I Song Orthodontics, Terry Kotsatos – Edward Jones, Albany Berkeley Optometry, Toy Go Round,  Hamro-Aangan, Ivy Room, Enoteca Mediterraneo, Fish First, Schmidt's Pub, Nielsen Arts Gallery & Custom Framing, Jade And Jewels, fillgood.co, Wendy's Gnome Shop, The Church on the Corner, Hotsy Totsy Club, Lift & Sprint, StretchLab, Picnic.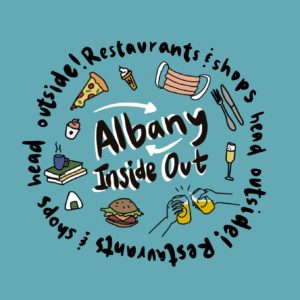 .
If you are able, please support these small businesses!